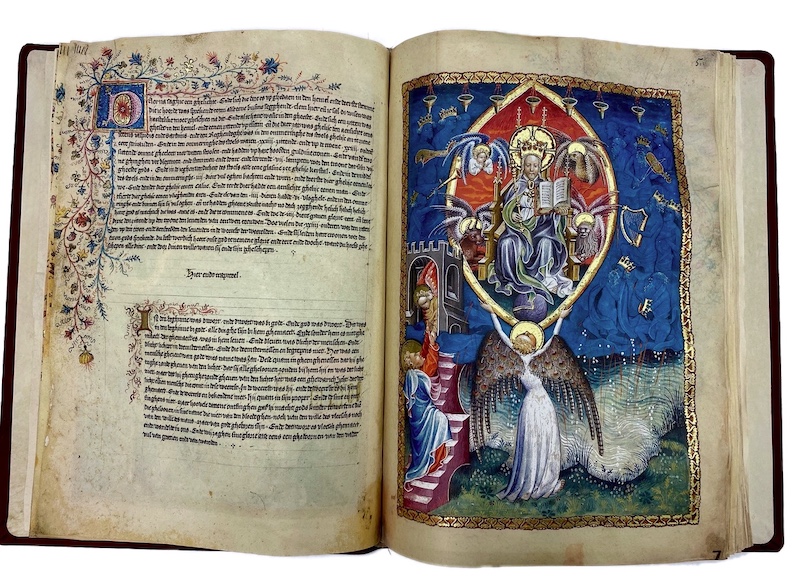 Edition on Natural Parchment Last units
Single and exclusive edition of 166 copies, numbered and certified by a notary, with it also being certified by a notary that only natural parchment was used in the preparation process

Paris, Bibliothèque nationale de France, Ms. Néerlandais 3, ca. 1400
ISBN: 978-84-89472-61-7
Personally, I call these marvels made on natural parchment "original copies" for a simple reason: no two specimens are the same due to the inequalities and unique characteristics of their own natural parchment Your copy will never be the same as someone else's, you will always have in your hands an original copy.
The manuscript known as the Flemish Apocalypse (Apocalipsis in dietsche) was born of the rich and productive period of artistic creation that arose at the end of the XIV and beginning of the XV centuries. A complex moment for the social, political and economic fabric of a Western Europe living through intense and sophisticated intellectual and artistic activity.
This manuscript contains a Flemish version of the Apocalypse of St. John. Profusely illuminated, it is an absolutely exceptional work. Regrettably, the identity of the client and his artists is not known, but given its textual, stylistic and technical features, its production can be tied to the artistic milieu of Flanders at the beginning of the XV century.
One of the most noteworthy aspects of this manuscript is the creativity brought to bear by its illuminators in order to capture a broad visual programme. This programme probably relied on the advice of a theologian, as demonstrated by the solutions found. Each illuminated folio constructs a complex narrative in which different episodes of the text are represented, but do not lose the expressiveness and power to instruct of the apocalyptic cycle. The two illuminators who worked on the manuscript were familiar with the iconic repertoire of the Anglo-Norman tradition, but they were also able to contribute new elements that give this work a distinctive and original personality among works with apocalyptical content.
Throughout the 23 folios with full-page illuminations, real and imaginary characters, urban settings and landscapes, the earthly and celestial worlds, unfold before the viewer's eyes with sophisticated formulas for composition and a vibrant chromatic range that captures our gaze. The ultramarine is set off by details in gold and intense reds, along with rose, green and mauve tones that build a balanced palette and show off the technical ability of the illuminators, as well as the purchasing power of the client who commissioned the making of this splendid manuscript.
The iconic devices are complemented by initials with delicate decorative fl oral and vegetal and occasionally animal motifs, that open the text on the verso of each folio, while the recto is intended for illumination, thus achieving an elegant and eff ective relationship between image and text.
The manuscript was acquired by the Bibliothèque nationale de France in 1827 and has since been preserved in its collection of medieval manuscripts.